M.G. (Maayke) Slot MSc EMA RA
It starts with trust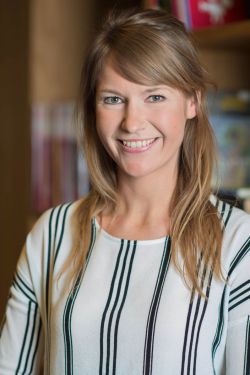 Maayke followed her practical education as a chartered accountant at PwC and then worked for over five years at the Dutch Authority for the Financial Markets (AFM). "The basis of my work at the Compliance Office is comparable to what I did at the AFM: contributing to the quality improvement in the accountancy. At 'het Compliancekantoor' as an advisor, instead of a supervisor. This gives a different dynamic, because an advisor has more freedom than a supervisor. As a result, I can, for example, be involved in coaching and giving courses."
The knowledge and experience that Maayke gained at the AFM also comes in handy in her work at 'het Compliancekantoor'. "I can use everything I have learned even more broadly here. For example, for audit firms that have not often been inspected by the AFM. I can help them prepare well, because I know what is involved in an inspection and what is expected of the firms. I know 'the bar' well and see quickly where the weaknesses in an audit are. "
"Auditors have an important social role. As a result, the sector is under a magnifying glass and shows up negatively in the media regularly. That negative sentiment is not always justified, but I do believe that audits should and can be improved. I see that more and more audit firms are investing in quality. I would like to support them in improving their audits and the quality control system that safeguards audit quality. This would lead to restored trust in the work of auditors. Because, of course, it all starts with that. "
In addition to her work at 'het Compliancekantoor', Maayke is an external expert in Auditing at the State University of Groningen.
Internationally, she conducted several oversight inspections at the AFM jointly with the PCAOB and she attended the inspection workshops of the International Forum of Independent Audit Regulators twice. She also participated in the former college of regulators of the European Audit Inspection Group for about a year (currently: sub-group of the CEAOB).
---